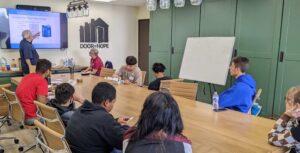 Hope IT is seeing improvements this school year, starting with re-newing our partnerships, re-starting in-person courses, and other new efforts.  Those are all paying off…seeing fruit. Thanks be to God.  We want to report on our second partner-only course this school year, our internship working, our last course of the year, and even some Hope IT team changes.
In April, Hope IT had a Robotic course just for Door of Hope students.  Below are the highlights of this course:
5 students started the course, and 2 students finished.  There were 4 boys, and 1 girl.
Age of the students ranged from 11 to 20.
At the most, we had 7 Hope IT team members at the course.  We had 3 high school assistants (2 boys and 1 girl). Hope IT tries to offer a very high teacher to student ratio and a rich support environment.
One of the high school assistants was a Door of Hope student, and he got paid to assist the new students.  This Door of Hope student took the Robotics course back in October, and is now in a place to help other students learn.
This is the second time Hope IT taught this course.  It is a new course just this year, and is getting a lot of interest.
Both pictures above and below are from this course.
We are wrapping up the paid internship for one Hope IT student.  We are just thilled how this turned out:
This internship is with our partner, Bridges, working on the Bridges website.
Our one student in the internship is a 16 years old high school junior, from the Door of Hope.
Our student went through the hiring and interview process and was accepted.
The internship is 20 paid hours of remote work.  We are currently about half-way through this internship, which is going well.
The work is to create a better format on a web page, to present all their Bridge leaders.  The student had to show a few prototypes, for Bridges to decide which to use.
The Hope IT student is using his acquired WordPress skills to work on the Bridges website.  These skills are expanding, as Bridges uses the Divi framework rather than the Elementor framework used in the Hope IT WordPress course. (Both are very popular in the industry.)
Soft skills the student is gaining include how to be ready and on-time for on-line meetings, and making presentations to the boss, and how to interact with people at work.
We have an upcoming June course – Solving Mazes with Python.  This is the last course for the school year:
Hope IT is pleased to offer our course featuring the Python programming language.  Python is not taught in many high schools,  but it is currently the most popular programming language in the IT industry.
The course involves a virtual robot in a maze, as each week, the students improve the program to allow the robot to solve a maze.  The mazes can be changed, so the concepts in the program are tested to see if our changes are really improving the ability to solve new mazes.
Hope IT taught this course back in 2020, and we had to revise the course tools, as the IT industry keeps changing.
The Python course teaches fundamental programming concepts.  Once these concepts are learned, a student can quickly learn other programming languages.
Students wanting to go into the IT industry need a broad range of skills, so  Hope IT offers a variety of courses.
The Hope IT team is changing.  We are saying goodbye to 2 long-time team members, and hello to new members:
Hope IT is saying goodbye to 2 team members, a father and son.  As their family activities just increase, they need to step away to keep up with their workload.  They have been with us for 5 years, were key in allowing our WordPress course to offer individual websites for each of our students, as well as develop the Roblox course.  They are our friends, so we will miss them.
Hope IT was also blessed with 2 new team members in the last few months.  Both have strong IT backgrounds, so we are gradually folding them into our efforts, as well as developing new projects.
Hope IT is approaching the end of the school year.  We will send a final update in the summer.  We are thankful for the progress of our students this school year, and preparing for the next one.
We are all blessed to see God's steadfast love shown to students who do not otherwise get many opportunities.  We are all blessed: our students, their families, our partners, and the Hope IT team.  Thank you for your prayers and support.
God is good.
Gratefully,
–Mike Veerman
Hope IT team lead