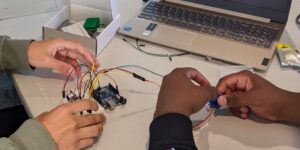 In October 2022, Hope IT offered an Introduction to Robotics course.  Getting kids to discover first hand about circuits, wiring, LED lights (see picture below), moving and sensing components is so fun, and great to see.  Working with these simple Robotic project, makes us appreciate how so many other devices …like our laptops and smartphones…are made.  It also makes us wonder how God made us.
The slides for the course, as well as the basic setup and code is in the below GitLab link:
https://gitlab.com/hope_it/introduction-to-robotics
We are grateful to Barnabas Robotics (BarnabasRobotics.com) for providing us the robotic kits, the model leason plans, and inspiring Hope IT how robotics is so much fun.
To learn more about Arduino (and ultrasound sensors), go to the below link:
https://www.tutorialspoint.com/arduino/arduino_ultrasonic_sensor.htm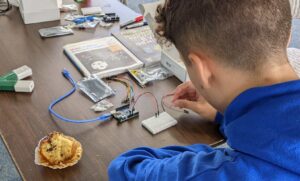 Survey: Let Hope IT know what you thought/felt about the course….thanks!!