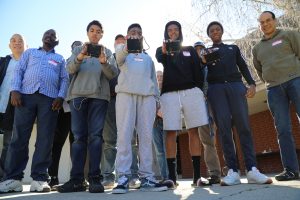 Hope IT is a Christian-based effort showing God's love and hope to underserved kids in Pasadena by gaining IT/computer skills.  We do this in a few ways.
We have courses at no charge on Saturday mornings, in February, June and October.
Hope IT has a mindset that God's is the source of gifts — including technology — and our people and partnerships are key to reaching and encouraging kids to learn, and see their future positively.  Read more here how we do this.
See the latest stories and news of what Hope IT has been up to lately.  Sign up to receive our newsletters further below.
Our upcoming October 2023 course will feature Robotics, where students will build circuits to light LED lights, and work with sensors and motors (servos).  Reach us to have your kids sign up.  Or your student in your organization can sign up by clicking here.  Again, there is no charge for our courses.
---
Receive our newsletters via MailChimp by providing your info below.  You can visit our blog page to see previous newsletters.