Hope IT will offer a Roblox course in June 2021 to show the basics on how to build and script.  We will do this on-line, so that will be a challenge, but the payoff is worth it.
Roblox is fun (and it's free).   Creating games in Roblox Studio is so extensive; our course will show the basics how to build and script.  Let's see what we can do!  (The below image is a sample of what Roblox Studio looks like, and what a Roblox game looks like.)
Roblox Studio will need to be installed on the student's computer.  Before the course starts, our Hope IT will reach out to each student (via the group leaders) to make sure everything is installed and configured correctly on the students computer.
Note to parents/youth leaders: There are concerns for kids to be in an on-line forum.  We provide 2 links below for parents and youth leaders to review.  The Hope IT course will also start with reminding students to not communicate with strangers outside of Roblox, and not give out any personal information, like their names, address, and telephone numbers, or this same information for their parents and siblings.
Roblox wants children to be safe – parent controls
ChildNet parent's guide on Roblox
Common Sense Media parent's guide on Roblox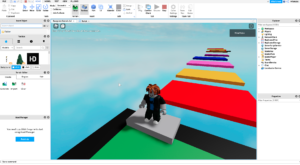 Hope IT tried to teach this course on-line, while COVID was still spreading.  This subject matter did not lend itself well to try to teach on-line.  We found even having the kids install Roblox Studio was difficult, and barrier too hard to cross.
Below is our course lesson plan:
Below are links to help you get started:
Install Roblox Studio (where you create your games):
Learn how to build and script:
Publish your game so you can your friends can play your game: