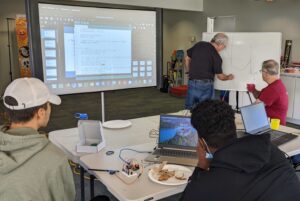 Hope IT is grateful for 2 students and our partners, for successfully completing our Introduction to Robotics course.
After reconnecting with our partners, we had 2 students from the Door of Hope to attend our Robotics course in October. Here are a few highlights:
Each week, we saw the students learn.
They wired different circuits.

That meant doing simple things like lighting up an LED, and then making it blink. This was used to teach the basics of electronic circuits, power, and powered devices.
Students added a resistor, and understood the difference between 3.3 volts and 5 volts devices and using resistors to integrate devices requiring different voltages.
The following week, they made a robotic arm move to specified locations at specified times. The arm was controlled by a servo motor. Computer control of physical motion was discussed.
On the last week, they added an ultrasonic sensor to detect objects 10 centimeters away, and if so, raise the arm…like a parking arm we use all the time to enter a parking lot, and lower it when the car has passed. They did it themselves, and oh, that was fun to see it work. This demonstrated integration of sensors, logic, and mechanical devices using closed loop control.

And some math involved! We covered angles, speed of sound, and calculating distance. This is a reminder to students to keep up with math, as its so connected to computer skills. The Hope IT team just smiles.
It was intriguing to also visit the Harvest Festival at the Door of Hope before Halloween, and have a table for Hope IT, showing other kids what they can learn. Our 2 students came by the table, and put together the circuits, going through each of the set ups they learned. It was a relaxed, unstructured, fun environment, and an opportunity to reinforce what they learned. One of the students had their mom there watching…and taking pictures. We are all proud of them.
For these students, Hope IT will have a bonus one-day session, in early December, creating ornaments of LED lights, soldering them permanently.
Hope IT is grateful to God for the 2 partners (below) that help Hope IT in the background. We could not serve kids without these 2 key partners. We are thankful for them.
Knox Presbyterian Church provides us funds – to buy the laptops and the Robotics kits – as well as the great room (see the pictures) to learn and be together.
Bridges provides Hope IT with coaching to communicate better to partners and supporters, and the fiscal sponsorship to both receive donations, get reimbursed on expenses, and even have an opportunity to pay kids to help teach other kids (via work permit).
Here's a quick overview of courses coming up.
Working with Stars, we are tentatively setting up a Roblox course for 4th and 5th graders for January and February.
In February, Hope IT will have a Saturday morning course on WordPress again. This will be an on-line course, to prevent COVID spread, that usually occurs more in winter.
We are optimistic for partners with the Door of Hope to have an April Robotics course, and possibly have our 2 students that just took the course, help as assistants. We really look forward to that prospect.
Hope IT is grateful for your support and prayers, our team, our students, and our partners. We see students begin to view their future more positively, and we all see God's love more. Absolutely why we are doing all this.
God bless, and have a good, spirit-filled Thanksgiving.
Gratefully,
–Mike Veerman
Hope IT team lead